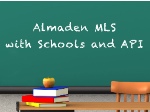 Search Almaden Homes for Sale by assigned school and latest API scores! Other Almaden Valley real estate websites may show you the school closest to a home for sale – but your child may be assigned to attend a different school.
Using our patent pending software you can now search homes for sale in Almaden by property features, price range, assigned schools and school API scores.
Ways to Search for Almaden Homes for Sale . . .
Search Almaden homes for sale by price range and schools: I want email alerts on any Almaden Valley house under $900,000 in Bret Harte and Leland school areas.
Search Almaden homes for sale by property features, price range, and API score: I would like to be notified of houses for sale in Almaden with 4 bedrooms and 2 bathrooms between $1m and $1.3m with an elementary school API of 900 or greater.
Sign-up for custom email alerts to find Almaden homes for sale: Receive custom email alerts that include Almaden Valley MLS listings that match your special criteria, including property features, school assignments, and latest API scores.
Custom email alerts that match your criteria: You can also request custom email alerts to find Almaden Valley Homes for sale that match your specific criteria.
All property information is updated several times a day and kept current from the Multiple Listing Service (MLS) listing data.
Featured Almaden Homes for Sale by Therese Swan
View property details, video tours, photo galleries, and neighborhood maps of these beautiful Almaden Valley homes.
New Homes in Almaden: Fleetwood Almaden Estates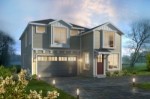 Fleetwood Almaden Estates neighborhood consists of new luxury 4 bedroom single-family homes in an attractive and well-planned neighborhood located in beautiful Almaden Valley. The subdivision will consist of 16 homes with variations based on two unique floor plans: Hazelwood Collection and Fairwood Collection.
These homes for sale in Almaden Valley range in size from +/- 2,006 square feet (Hazelwood) to +/- 2,204 square feet (Fairwood). All feature either 4 bedrooms, 3 or 3.5 bathrooms, two car garages, and private backyards. Also included are designer interiors with superior finishes, including high-end energy efficient appliances.
Fleetwood Almaden Estates homes will be available in late 2012 and early 2013. Contact Therese today for further information about these wonderful new homes in Almaden Valley.
Other Ways to Search Almaden Homes for Sale
Homes for Sale in Almaden Valley | Homes for Sale 95120 | Homes for Sale 95042