Alain Pinel Almaden Overview
Alain Pinel Almaden is the foremost purveyor of distinctive residential real estate and homes to the industry's most experienced and innovative agents in Almaden Valley. Alain Pinel Almaden has more market share in Almaden Valley than any other residential real estate brokerage.
Located in the rolling foothills of southern Santa Clara Valley, Almaden Valley is one of the most desirable neighborhoods in San Jose. The enclave boasts manicured homes, magnificent views and unique hillside parks and trails, with many of Silicon Valley's high-tech professionals calling the neighborhood home. Almaden unfolds in gentle hills and flatlands filled with attractive, well-kept suburban homes and stately Mediterranean-style estates.
Almaden Valley is a community with plenty of recreational opportunities as well. The area boasts three golf courses, numerous parks and trails that crisscross the hillsides. A gem in the southern part of the neighborhood is the paved Los Alamitos Creek Trail, which is excellent for hiking and cycling. The town's myriad recreational opportunities coupled with its outstanding location have made it a wonderful place to call home.
Therese Swan, who does business out of the Alain Pinel Realtors Almaden office, ranks among the Top Realtors in the Nation. Therese is the only Almaden Realtor to make the prestigious 2012 Top 250 by Sales Volume category.
Alain Pinel Almaden Location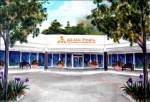 The Alain Pinel Realtors Almaden office is located at 1071 Blossom Hill Road, San Jose, CA 95123. The nearest intersection is Almaden Expressway. The office is located directly in the far left corner of the plaza. Contact Therese Swan (DRE#: 01355719) at Alain Pinel Almaden at 408-656-8240.