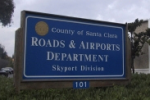 Santa Clara County Roads and Airports Department will soon be working on several improvements to ease traffic on Almaden Expressway.
The County Board of Supervisors has approved the Almaden Expressway Operational Improvement Project, and construction is scheduled to begin in early September 2011.
The area that will be under construction extends from Blossom Hill Road to Branham Lane, which is the most congested section of the expressway due to vehicles entering and existing Highway 85.
Almaden Valley residents know that this area of the expressway can be especially busy during commuting hours and on the weekends when people are out and about.
You can read a brief summary of the various improvements planned for Almaden Expressway.
Video: Almaden Valley Prepares for Almaden Expressway Project, with KTVU's Robert Handa Reporting: http://www.ktvu.com/video/29163193/index.html
Santa Clara County Roads and Airports Department preserves, operates, and enhances the County's expressways, unincorporated roads, and airports to meet the needs of the traveling public.