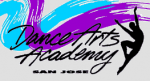 Your child will learn a little bit of everything in this versatile, half-day Spring dance camp taught by Dance Arts Academy – including ballet, tap, jazz, swing, hip hop, gymnastics, cheer, and Hawaiian.
Each camper will have an educational and positive experience, while building their self confidence.
The camp is for boys and girls ages 3-12. Participants are placed in age-appropriate classes. A snack and juice is provided. Recital is held for parents on Friday!
Dance Arts Academy has offered professional dance instruction for over 41 years. Teachers focus on building a strong foundation of dance technique in a well-structured and fun learning environment.
Camp Dance is held daily at Dance Arts Academy Monday, April 11, 2011 through Friday, April 15, 2011 from 9:30am to 12:30pm. The price is $127 per child. Register online or call 408-578-4055.